The Best Things To Do With Your Gay Date In Las Vegas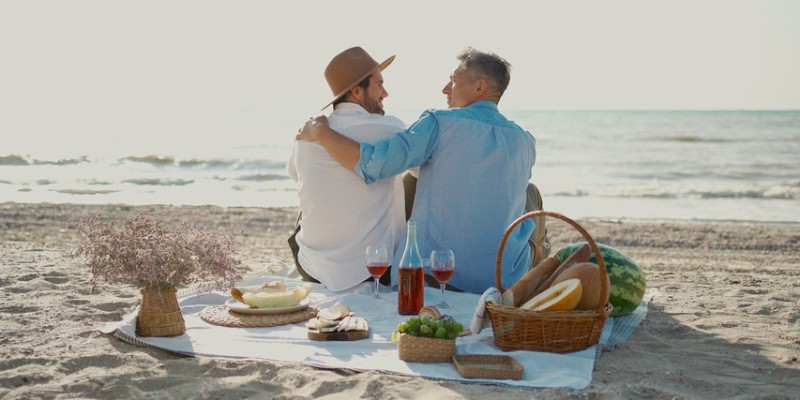 Las Vegas is a city in Nevada that is popular for its luxurious culture of gambling, partying, clubbing, shopping, dining, and the never-ending nightlife. The major attractions for which people from around the globe visit Las Vegas in huge numbers every year are casinos and hotels. People often enjoy themselves to the core - drinking excessively with their friends or partners, having fun playing casinos and other games, and even making bold and fun decisions in the blink of an eye. Due to this reason, the city is also called the Sin City of the United States because of its massive contribution to the total number of unusual happenings that the country records.
In recent years, owing to the great advent of a queer-friendly leap, Sin City is now enjoyable and accessible to all people, be it gay or lesbian, and not just limited to providing a fun trip for straight people. Las Vegas accepts and welcomes gay or lesbian dating with open hands and without judgments or restrictions. So, if you want to drench your gay date and yourself in a pool of cards, beer, and endless fun, you should immediately plan a date with your gay partner to Las Vegas.
Status of LGBTQ development in Las Vegas and gay dating
The past decade has seen an immense amount of improvement in the recognition sector for the LGBTQ community. The Nevada authorities indeed believe in the notion that 'Love is Love' and have legalized same-sex marriages in 2014. Hence, Nevada, and Las Vegas, in particular, are free from discrimination or disparity for gay couples in the city. They are treated equally as any other couple by almost all hotel owners, casino owners, staff, and other Vegas natives. Las Vegas is considered the booth for nonstop partying and booze and is very queer-friendly. The Vegas people are welcoming and like to provide their guests with happiness. The tourists are there for a few days of fun which makes them indifferent to what kind of couple is dining at the table next to them or with whom they are playing a round of casino.
There is more to queer acceptance in Las Vegas than just this. Owing to the number of impromptu or planned marriages in Vegas, some firms or communities have even set up a service to arrange a marriage for a same-sex couple. They are beneficial and queer-friendly groups that can help you have a wedding that you like with your gay partner.
If you are still skeptical about planning your stay in Las Vegas and doubt if the people around would be judgy or conscious of a gay couple, we have compiled a small list of hotels for you that you can consider while booking your stay and accommodation. We guarantee these hotels are a hundred percent queer-friendly and will make you feel no less. These hotels include the MGM Grand Hotel and Casino, Treasure Island Hotel and Casino, and Paris Las Vegas Hotel and Casino.
Major attractions to enjoy with your gay date in Las Vegas.
Although there is nothing a gay couple should not do in Las Vegas that a straight couple can do, there is undoubtedly more to it! A gay couple can surely enjoy a few more attractions and activities in Las Vegas than a straight couple.
1. The Garden Bar
If you are in Las Vegas with your gay partner, you must visit The Garden Bar. It is a gay bar and one of the finest in the trade. It is a recent opening, but it is just the right amount of explicit to make it visitable. The bar is specially designed for LGBTQ people and couples. It serves delicious food with a worthy ambiance and entertainment attractions such as Latin nights and drag queens.
2. Retro Vegas
Retro Vegas will be the best place you would have ever visited if you and your partner were retro freaks. The site is heaven for people who love to shop for and collect retro and vintage items. Retro Vegas offers a vast strip of vintage shops, boutiques, and even furniture shops that excel in selling mid-century modern classic furniture. This is one of the finest and most famous places for tourists to shop for themselves or their family and loved ones to take back home.
3. Container Park
This is the go-to place for couples to enjoy a romantic evening. The site sets the right mood owing to its open-to-air ambiance and small and cute boutique stores that sell affordable items. Fine dining restaurants, roadside food joints, bars, and entertainment centers give a fantastic experience for queer people. It is located on the edge of the infamous Fremont Street. At the southwest end of the Container park, there is a place that is well equipped with staging and seating facilities and a DJ. This is the absolute perfect spot for any couple - does not matter if you are a straight couple or a gay couple - you can enjoy your night with your loved one by dancing to a beautiful song or just roaming around holding hands with your soulmate with the worry of any judgments from anyone.
4. Sunset Park
We all know that we are deprived of quality and peaceful time with our loved ones in the hustle and bustle of cities and work life. When you plan a trip with your lover, you intend to take out at least some time in the middle of the journey, not to enjoy some cool bar or a fascinating casino in Vegas to sit and enjoy the passing time with your lover and cherish the moment. Sunset Park in Las Vegas is there to fulfill this purpose. It's there when you are tired of exploring the exquisite clubs and hotels in the city and you want to gaze at the pretty and delightful sunset with your hand in your partner's hand. It is located between the Vegas Strip and East Fremont. You can either take up a bunch of recreational activities such as hiking or running and then sit down for a beer and enjoy the sunset, or you can skip the physical work and be just there to enjoy the evening.
5. Faaabulous! The Show
This is one of the city's most pleasing and entertaining attractions for queer people. One of the famous drag queens in Las Vegas started it after many of them hit a slump when the Covid pandemic struck the entire world, and tourism was highly diluted. The Show is an all-live drag show that lasts for up to seventy-five minutes. The show plays every Friday night in two scenes, and it is probably one of its kind, which you do not want to miss at any cost if you are on a trip to Las Vegas with your gay date.
6. A Trip to Chinatown
A Chinatown grew spontaneously less than two miles from the strip. From the ribbon, travel northeast for about 15 minutes. At Spring Mount Road, turn around when you notice a gate with painted and sculpted dragons reminiscent of the Tang Dynasty. You and your date may find up to 150 different Asian eateries in Chinatown Plaza and the blocks around the gatehouse, including Chinese, Japanese, Korean, and more. These restaurants range from conventional to avant-garde.
Wrapping Up
We believe a trip together can strengthen your relationship with your partner by a surprising number of folds. If you want to get to know your partner better and spend quality time with him, planning a trip to Las Vegas with your gay date is an easily accessible and affordable option. All you need to do is keep track of which places are gay and queer-friendly and which sites provide the best attractions for a gay couple in Vegas. We have provided a few of the best attractions and activities you can choose while going on a gay date in Las Vegas. We are sure you will enjoy them and cherish those memories throughout your life. For more suggestions and tips on dating and relationships, do not forget to follow our content regularly on perfect10dating.com!