9 Ways To Enjoy Long-Distance Dating During Christmas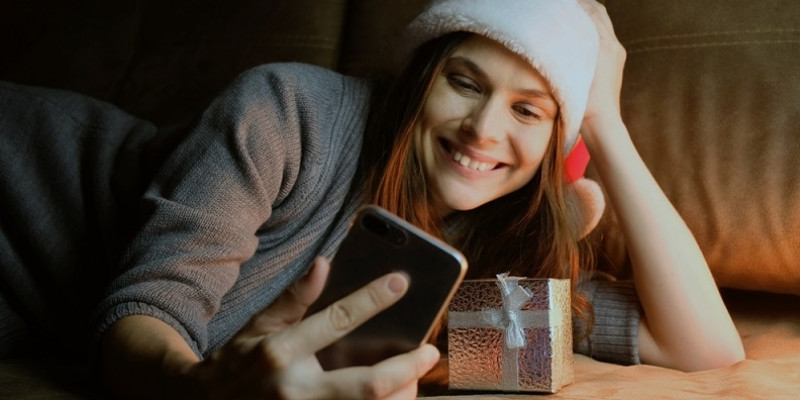 The month of December is all about festivities, food, and Christmas. We wait for the holidays throughout the year to be with our loved ones and spread Christmas cheer. Shopping for Christmas presents, spending time with family and friends, lighting up the Christmas tree, decorating the house, eating delicious food, and sipping hot chocolate are all we crave for. Spending the most-awaited holiday season away from your partner is never easy. Being miles away from your significant other may feel more of a challenge. But just because things are challenging this Christmas doesn't mean there aren't ways for you to make the most out of a bad situation. The festivities can get a little emotional for you when you're in a long-distance relationship. Still, there are ways in which you can make up with your partner for missing the holidays.
Here's a rundown on several ways you can enjoy long-distance dating during Christmas this year and in the years ahead.
1. Watch Your Favorite Holiday Movies Together
If you and your partner are movie buffs, then watching a Christmas film is an excellent way to spend your day off when you are miles apart. Even if your work commitments make you travel on Christmas, you can connect with your partner through a funny or romantic holiday movie. Nothing can be more fun and intimidating at the same time as watching a movie. Whatever you do, make it a fun and memorable experience with your partner. You can choose from a wide range of films and watch them with some popcorn and hot cocoa. The list of holiday movies is never-ending, but some of the highly-recommended bunch are- It's A Wonderful Life, A Christmas Story, The Grinch Who Stole Christmas, Elf, Jingle All the Way, and Home Alone. Watching holiday movies in a long-distance relationship is a must-try with your significant other.
2. Plan a virtual date
There are many ways you can connect with your partner at any time of the year with the help of today's highly advanced technology. High chances are you're already using online services such as Skype, WhatsApp, or Facebook to connect with your loved ones all year round. Connecting online may be the most clichéd yet effective way to overcome the feeling of being away from your partner. Plan a romantic virtual date, set the mood with some wine and candles, and dine together over a video call, trying to recreate what it would be like had you been together. You can ask anyone who has ever been in a long-distance relationship, and you will be genuinely amazed at just how inventive it's possible to be at having a date night! You can also set a theme for the virtual date, including having a virtual karaoke night, playing video games, and being goofy.
3. Send surprise gifts through the mail
Use the surprise element and send in Christmas goodies to your significant other in advance through the mail. There is nothing like the happiness that comes with unwrapping a gift from your partner. This sweet gesture comes with its symbolism in a relationship. It shows that they were thinking about you when they purchased your present or the best, it's all handmade with love. Finding out how they remembered getting you that cuddly soft toy they told you about. Sending personal letters, cards, and presents through the post will never go out of style. Gifts don't need to carry any materialistic value as it is always about love. Humans love connecting through emotions. Holding something your partner has also held in their hands can be very comforting in a long-distance relationship.
4. Capture Everything You Can
Recording or capturing the beautiful moments of life might be very common these days. Still, as family, food, and laughter multiply, you might forget to keep in touch. Share the little things which were a part of your day. This makes a big difference in your long-distance relationship. The connection deepens if you share the moments of your day with your significant other. Also, don't miss out on taking pictures with your furry pets (if you have any) and sending them to your partner. How you spend your Christmas holidays becomes a massive part of who you are. You can snap photographs of the best-decorated houses, snowmen you built, or the bright and lighted-up Christmas tree. Your better half would be happy to know you are thinking of them, and it's always wonderful to share something magical. Showing your partner one of these parts of yourself can bring you closer, even when you are miles apart.
5. Match your clothing
While you can't share the same room, try sharing a Christmas uniform! Get yourself matching Christmas-themed pajamas to make the day special. If you want to feel in tune with your significant other many miles away, rocking the same pajamas or sweater will do the trick. You can twin with your special one by purchasing matching holiday clothing items, which you can order online. Just slip the twinning clothing on, and take photos of yourselves in your coordinating outfits to share with family and friends this Christmas season. You can also use the goofy twinning pictures on Christmas cards.
6. Bake together
December holidays are officially dessert season. Indulge in some sweet tooth cravings by trying to bake a cake or pies together. Grab the baking essentials and try your hands at cooking with your beau. Get on video calls, choose together the same recipe and try to add some sweetness to your Christmas day. You can add more fun by live streaming and starting the bakery challenge simultaneously. Later, you can indulge in the sweetness and discuss who aced the baking challenge. Cooking a meal by being together virtually is a great way to spend time together. Doing this fun activity will tell who is a clumsy baker and who can run a boulangerie one day.
7. Do things together
Christmas is a time for celebration, so try to take some time off in your day to focus on the positives of your long-distance relationship. You can even schedule some time to open your Christmas presents together or hold a conference call with your family and friends to establish a sense of connection, even when living miles apart. You can decorate the Christmas tree and light up your house together via video calls or Skype. This will make you feel closer to your partner and make many goofy memories. Take time to share family stories and what you love about each other. Be grateful and practice gratitude. This will help uplift your moods and is another sweet way to connect with each other and spend Christmas.
8. Make plans about future meet-ups
You can make plans with your better half for when you can see each other again and be together. The worst part of a long-distance relationship is uncertainty about not knowing when you'll see each other again. So, looking forward to the future times when you'll be together is a great way to boost your moods on Christmas. You can plan the places you want to visit together and the dates you want to visit. The planning can be efficient, which you want to tick off your bucket list. You can also fantasize with your partner about the things you would love to do in your life, both individually and together. Also, you and your beau can jot the items you want to try together. The list can hold many things, such as dream trips to exotic locations, fine dining at fancy restaurants, or extravagant date ideas.
9. Play online games together
Are you and your partner die-hard fans of online games? Then this is one of the best ways to enjoy your Christmas time if you are not next to each other. Get on a Discord call and start your favorite games to enjoy together, be it creating a Christmas paradise on Minecraft or simply enjoying some FPS games. This way, you will not only enjoy fighting and laughing together, but it will make your Christmas night memorable.
Conclusion
You can share the Christmas cheer with your beau even if you are not together. Distance does not matter over the feeling of making your special one feel loved. These small and thoughtful activities will make your long-distance Christmas memorable for you and your partner. Follow perfect10dating.com for more dating tips, advice, and safe online dating.