Elite Singles Vs Match.com
Both of them are classical dating sites when it comes to user compatibility and have been in the fray for a long time now. They have known the requirement of every generation for a long time now. While Match.com is one of World's biggest and most successful online dating sites for over 20 years, Elite Singles has earned its name over last few years due to more specific search results and other user compatibilities also. But if we were to choose from these two, which one should you go for? Let's check them out on our set parameters:
Sign Up
Sign Up won't take much time on Match.com from start to finish while they require some basic information and then prompted to begin filling the profile with your education, physical appearance, lifestyle and interests. At this point, some 'Deal Breakers' also are also included which helps Match.com which keeps unwanted singles from your inbox.
Elite Singles on the other hand asks you to fill up a personality quiz which has questions ranging from every sphere of your life from your past relationships to your sexual interests as well as what your friends think about you. It also keeps track of all personality related queries which your searching partners might have in the mind. This is all to create a personality report which helps match you based on core compatibility. Both of them has similar Sign Up process but Elite Singles has an excellent understanding of the singles before going online and hence it is the winner.
Winner: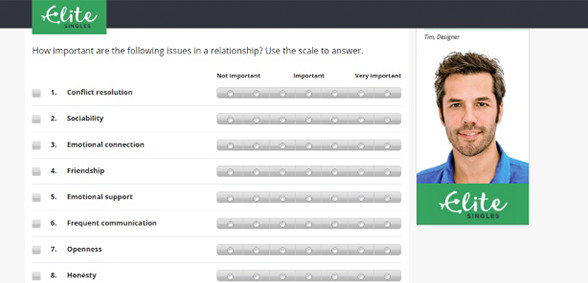 Pricing
While both offer non-premier services to search more compatible results, they charge their users for going premium and updating themselves to more exclusive categories. Match.com provides more compatible price range starting for $20.99 per month for six months which gets extended to another six months if the match does not get made within that time frame. Elite Singles, on the other hand, gets a bit pricey for the underprivileged singles with its prices starting from $39.95 per month for six months but with this price you also receive more elite services with matchmaking, a personality quiz and manual verification of all profiles. If you are more into security and value for price sort of person, Elite Singles should be your automatic choice.
Winner:
Ease of Use
If you are very serious about your search results and findings, then Elite Single's is your choice because its curated results based on the quiz you take while signing up. This makes the search result more compatible and helps in finding the best for you.
But match.com has a simpler sign up process coupled with more unique search parameters given there. In under ten minutes you can be up and running to search your favorite persons on the site. So, the clear cut winner here on the basis of ease of use is Match.com
Winner:
Communication Tools
Elite Singles is one such website which encourages singles to go ahead and chat to their match through their onsite and application based chatting tools. It also helps the singles to end the deadlock with icebreaker questions which help them to catch ahead their love talks. Match.com on the other hand has very excellent tool to help the singles get in touch with every match they find. They can do so through the inbox chats, instant chats and even the MatchPhone option. You can chat to the others without even using your own phone number and which is a great way to start the chat without any such trouble arising out of contact swap.
Winner:
Mobile App and site
While both of the sites have their mobile application as well, user viewability remains the greatest of challenges for both of them. Match.com has its mobile application available for iOS, Android, Windows, blackberry and Palm also while Elite Singles is only available on iOS and Android devices but this is not one criteria we can judge as most people use these devices only. Match.com has an advantage as its m-site is the exact replica of the Website and the user has the same interests at both places.
Winner:
Search
Match.com emerges as the clear cut winner here because it provides a number of ways to find the kinds of singles you have been looking for. It also has a traditional search tool, saved searches and even a reverse match tool where you can see what kind of singles you are being suggested to. You also get singled out search results at your email ID which are more compatible to your search criteria. And you can also play the fun swipe game to see which singles are nearby or have been missed. Elite Singles on the other hand has a search tool but its search result filters the result using your interest and preferences given in the Personality quiz. This is where it gets trumped by Match.com.
Winner:
Safety
Both of the sites have much to offer if you are looking for a secured connection and have plenty of security measures in place to check for any abrasions. Match.com has a dedicated InPrivate mode where you can browse the site without any members seeing you online. They also have a phone support were Elite Singles has only email while verifying each and every of its profiles manually. It also has an advanced ID verification mechanism which keeps the fringe and not serious singles out of it.
Winner:
If you are looking for widespread search and other similar options then the overall winner for you should be Match.com
Disclaimer: We work hard to offer you valuable and reliable information about all of the products and services we review. In order to provide you with this free service, we use links on our site that provide us with commissions for referring you to the seller's site. We guarantee that this does not influence the material we present, but may influence the positioning on our site, and only supports our efforts to offer you the best and most relevant information possible.