Decoding the Silent Signals: 25 Signs a Shy Guy Likes You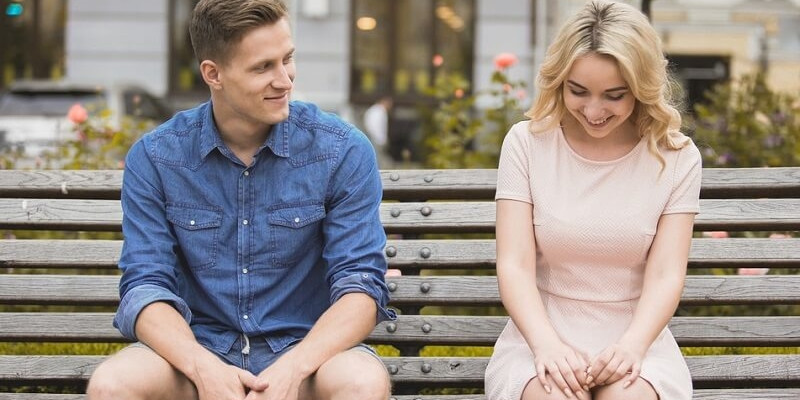 Understanding the signs that someone is interested in you can be challenging, especially when dealing with a shy guy. Shyness often masks genuine feelings, making it crucial to decipher subtle cues. In this comprehensive guide, we'll explore 25 signs that can help you unveil the mystery of a shy guy's affections.
Extended Eye Contact: Shy guys might struggle to maintain eye contact, but if you catch him stealing glances or holding eye contact for longer periods, it could indicate a deeper connection.
Blushing: Pay attention to any noticeable changes in his complexion when you're around. Blushing is a classic sign of someone feeling self-conscious in your presence.
Body Language: Observe his body language. If he turns his body towards you, leans in when you talk, or mirrors your movements, it could suggest he's interested in being close to you.
Nervous Habits: Shy guys may exhibit nervous habits like fidgeting, playing with their hair, or tapping their fingers. These actions can be involuntary signs of nervousness around someone they like.
Smiling and Laughing: A shy guy might be more reserved, but if he frequently smiles or laughs at your jokes, it's a positive indication that he enjoys your company.
Initiating Conversation: While shy guys may struggle with initiating conversations, if he makes an effort to talk to you or asks questions about your life, he likely has a genuine interest.
Remembering Details: If he remembers small details about your life or past conversations, it's a clear sign that he's invested in getting to know you better.
Altering Appearance: Making an effort to dress well or groom himself when he knows he'll see you can be a subconscious effort to make a good impression.
Social Media Interaction: Shy individuals often find it easier to express themselves online. If he engages with your posts or messages on social media, it could be a sign of his interest.
Sudden Shyness: If he becomes noticeably more reserved or awkward in your presence, it might be because he's trying to navigate his feelings for you.
Asking About Your Relationship Status: If he subtly inquires about your relationship status, it could indicate that he's contemplating the possibility of being more than just friends.
Acting Protective: A shy guy might exhibit protective behavior, such as walking you to your car or ensuring you're comfortable in different situations.
Complimenting You: Shy guys may find it challenging to express their feelings directly, but they might compliment your appearance or personality as a way of expressing admiration.
Interest in Your Hobbies: If he takes an interest in your hobbies or activities, even if they are not his usual interests, it demonstrates a willingness to be a part of your world.
Supportive Behavior: Shy guys might not be vocal about their feelings, but they show support by being there for you in times of need or celebrating your achievements.
Trying to Make You Laugh: Humor can be a way for shy individuals to break the ice. If he goes out of his way to make you laugh, he likely wants to see you happy.
Frequent Texting: While shy guys may find face-to-face communication challenging, they might feel more at ease expressing themselves through texts. If he texts you often, it's a good sign.
Expressive Eyes: The eyes are often referred to as the windows to the soul. If you notice a deep, meaningful gaze from a shy guy, it could be a sign of his emotional connection.
Physical Contact: Shy guys may not be overtly touchy, but subtle touches, like a light brush of the hand or a brief hug, can indicate a desire for physical closeness.
Inviting You to Group Activities: Shy guys might feel more comfortable expressing themselves in a group setting. If he invites you to group activities or gatherings, he likely wants you to be a part of his social circle.
Awkward Silence: Silence can be awkward for shy individuals, but if he's comfortable sharing quiet moments with you without feeling the need to fill the void, it suggests a level of comfort.
Gift-Giving: While not all shy guys are extravagant gift-givers, small, thoughtful gestures like bringing you a coffee or a book can be meaningful signs of affection.
Sharing Personal Information: Shy guys often guard their personal lives closely. If he starts sharing more about himself, it could mean he trusts you and wants to build a deeper and more meaningful connection.
Expressing Vulnerability: Shy guys may find it challenging to express vulnerability, but if they open up about their fears or insecurities, it indicates a high level of trust and emotional investment.
Expressing Long-Term Intentions: If he subtly mentions plans or includes you in his long-term vision, it's a clear indication that he sees you as more than just a passing acquaintance.
You may also like to read: Explore 20 Subtle Clues to Recognize Guy Flirting Signals
Conclusion
Deciphering the signs that a shy guy likes you requires patience and keen observation. By paying attention to these subtle cues, you can navigate the complexities of his shyness and uncover the genuine emotions he may be harboring. Remember, everyone expresses affection differently, and understanding these signs can pave the way for a deeper connection.