The Best Questions To Ask On The First Date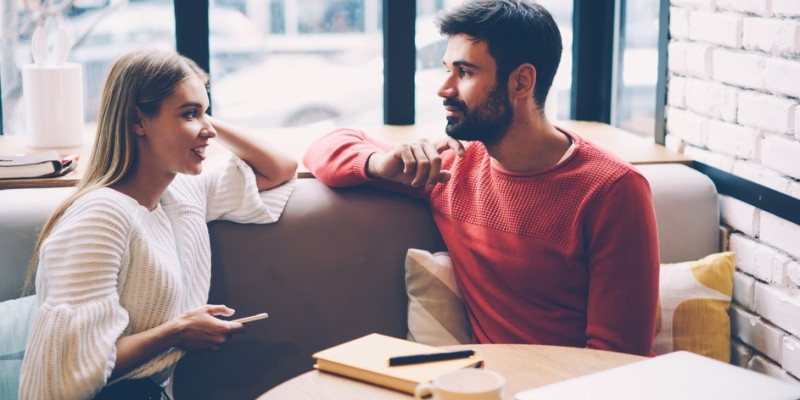 Top 10 questions to ask on the first date
Now that you are over that talking phase of texts and want to take your relationship further with your new partner, it is evident that you may be worried about that awkward silence and silent sipping of your drinks on the first date. The first impression you individually make and how well you and the other person interact play a massive role in your first date.
We've all heard that issues like religion, politics, and the like should be avoided if you want your first meeting to be pleasant and light-hearted. It is OK to understand that not all first dates have to be amazing but you can start with some good questions to converse on if you want it to be memorable.
So, we bring you our picks on the top 10 questions to ask on your first date to make it a success for you and your partner!
1. Are you working on any personal endeavors?
The best way to get to know someone on your first date is by asking a few personal questions. By that, we don't mean those boring things like What did you do? How was your day? What's your favorite food? You can simply engage in a conversation where they tell you about their personal projects, some works, achievements, or even if they are working to open their own cafe!
With such a simple question, you can escalate the topic to get to know their hobbies, likes, preferences, and future endeavors and not have to sit there with an awkward smile.
2. What's your daily routine like?
If you wish to spend your time with your partner, familiarizing yourself with their schedule is a perfect chance to take a step ahead on your first date. "What do you do?" is not a good question. Instead, inquire about their typical day. This inquiry will inspire more detailed responses and reveal more about a person than simply asking, "What do you do?"
You can learn if they are early risers, how they use their free time, and, in most cases, their occupation. You don't have to ask about their job; it typically comes up independently. Making yourself familiar with their daily routine will give you a better insight into how their life functions normally.
3. What are your proudest moments?
We all have some moments that we are proud of and would love to share with someone who shows genuine interest in getting to know us. Keeping that in mind, you can ease your conversation by knowing your date's proud moments, be it school achievements, being great at debates, or if they are a fantastic singer who has won countless prizes.
Inquire about the choices they've made that they're actually pleased with. Question about the last time they won an award. This will assist you in determining some of the things they genuinely cherish and some of the things for which they have worked hard.
4. What's your favorite memory from your childhood?
"Are you close to your family?" some people ask. However, this can be a tad personal for a first date, and most people will respond with a scripted response. Instead, ask about their childhood experiences and allow them to tell you about themselves and their family.
We mostly have some fabulous childhood moments: slipping in a mud pool or keeping snails as house pets. The crankier the answers, the better you can open up about your childhood and how you liked to spend them with your friends and families.
5. What's that major pet peeve of yours?
Everybody has a pet peeve or two. Talk about the things that irritate you. Inquire about your date's concerns. Pet peeves can help you understand some of the things that make people tick, and it's a terrific way to start being open and honest with each other right away. Be gentle with your questions and not superimposed when trying to know about their likes and dislikes.
You definitely would not want to push your date out of their comfort zone when trying to understand their phobias or what stresses them. This way, you can get to know their personality type better, whether they are chill or the ones who quickly get stressed out in their daily life.
6. Who is your comfort fictional character?
Every kid grew up making one fictional character from any movie, series, or cartoon as their idol or any character that they could relate to as a human. There is no age limit to having any fictional character to rely on when you're happy, upset, or sad, and this is definitely one of the best ways to start a conversation on your first date.
By asking about their favorite character, you can open up more conversations in the same stream and get to know the common grounds you have for movies, books, or television shows. Whether they adore Mickey Mouse or wish to be an Avenger or be a Ghostbuster, you have plenty of room to discuss!
7. This or that?
Remember playing 21 questions, or would you rather? Starting your conversation with those fun games is a great way to remove that awkwardness on your first date. Ask them whether they like dogs or cats, chocolate or pastry, or any such options to know what your date prefers over the other.
You can skip those boring conversations about your favorite color and food. Instead, going forth with such exciting ways of asking questions will surely make your date feel comfortable and have a great time.
8. What are your close friends like?
Pay attention to how they talk about other individuals to get a sense of their personality. This question also reveals who has had the most significant influence on your date's life and who has shaped them into the person they are now. And one of the best ways to find this is by asking about their close friends.
Listening to someone describe someone they care about is one of our favorite things. Especially when it comes to friends, we always have something to talk about, how our surroundings are, what kind of a circle we have, and what we do to spend time together. These little details will help you have a great first date with your partner.
9. What's your dream destination?
We all have a place where we hope to go someday in our lives. Be it a beautiful beach or the great cities like Paris and New York or even living a romantic week in places like Venice. Ask your date about their dream destination and continue the conversation with that answer.
You can even continue the talk with what makes them like their favorite place and what entices them to make that place their dream visit.
10. What do you do when you're bored?
Of course, we like to spend our boredom doing something that would ease us of that stress and tension of daily life. Everyone has their own way of enjoying their free time, be it going out on a walk, chilling with friends, meditating, or even exploring new restaurants.
Go ahead and ask your date what they like to do in their free time, and perhaps you can come up with some more date plans if you find some common hobbies to explore.
Wrapping up
We know how tedious that first move and first talk can get and how awful it would be if the conversation went nowhere. Of course, you wouldn't want to just sit there and stare at each other with awkwardness lingering in the atmosphere. So, whether you're nervous about your first date with your crush or just need some suggestions on how to break the ice with a dating match you've met for the first time, these questions should get you started. Ditch that thought and work it out with the top 10 questions we suggested to ask on your first date!
For more dating advice and tips, follow perfect10dating.com!