The Top 13 Romantic Engagement Proposal Ideas For 2022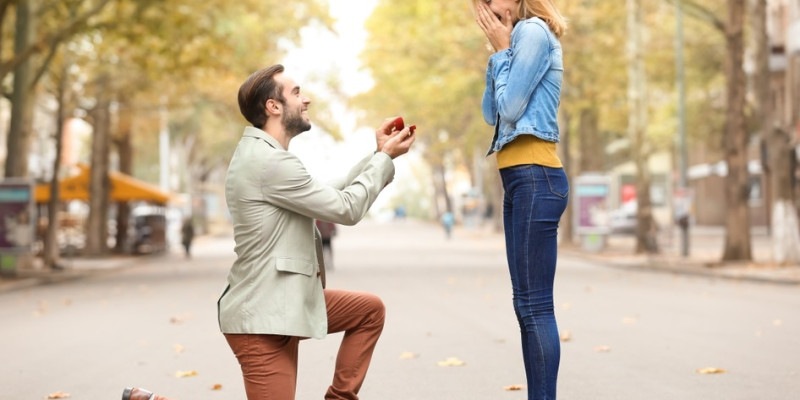 When you are sure about your partner, it's the perfect time to plan a romantic and dreamy proposal. We know love is a sweet connection between two individuals, and engagement is a once-in-a-lifetime opportunity. You might be surprised to learn that the concept or ritual of proposing is an ancient practice that is both an emotional and romantic occasion. Engagement is an official confirmation of commitment and the intention to marry. You just need the best romantic engagement proposal ideas to get a more memorable way to express your feelings and seriousness towards your relationship with your partner.
After deciding to pop the question, the first thing is getting the perfect ring. But, things don't stop here as you need to determine how you will put forward the question. There are countless ways to propose, but the best one will be an emotional, creative, and more personal way that reflects your feelings perfectly. This blog will tell you what to say before proposing and the best romantic proposal ideas.
What to say before proposing?
It is difficult to make a perfect proposal, and it can make even the most confident person nervous. But, since you have decided to pop the question, you must take the opportunity to speak your heart out before it to make it more unique. So, we have mentioned a few things to say before proposing to improve your confidence, convey your feeling and make the proposal memorable.
Tell the reasons that make you love them
Share the moment you know they were the one
Tell the thing you love most about them and what is your vision for future
Reflect your personality in your words and share those three magical words
After knowing what to say, let's tell you how to say it or pop the proposal question.
Top 13 Romantic Engagement proposal ideas
Let's share some of the best ideas to put forward for the engagement question, which are:
1. Beach proposal
A beach wedding is a thing, but a beach proposal is equally extraordinary. Imagine how it will feel popping the question with swift waves and a romantic sunset in the background? If you want something unique, book or set up a dinner at the beach and pop the question at night under the moonlight with dark waves. It will be both a magical and a memorable moment in life.
2. Castle proposal
Do you believe in fairy tales? Even if you don't, a bid at a royal castle can be your fairytale movement. There are multiple castles around Europe, and you can make a short trip to Europe and take a chance to visit a castle and put forward the question. It will be a romantic and luxurious proposal that can be followed by a romantic lunch. You will get the opportunity to make your own happily ever after moment.
3. Hot Air Balloon proposal
Are you looking for an offbeat engagement proposal? If so, how about a proposal in the air? Proposing amid the sky with colorful hot air balloons in the background will be a breathtaking experience. Also, you must book a private hot air balloon for privacy and a more personal action. Interestingly, it won't require much decoration or other preparations.
4. Trip down the memory lane
A couple decides to get engaged after spending several excellent and difficult moments together. Their time together is their strength, so why not relive the power while confirming the relationship of a lifetime? You can decorate a room full of your perfect and goofy photos to relive all your sweet and sour moments together you spent with each other and kept falling more in love. So, before popping the question, you can take time to remember each part of your journey together for an emotional proposal. This is one of the perfect personal, romantic proposal ideas.
5. Recreate your first date
We know life comes full circle. Why not follow this saying for a proposal? You can recreate your first date, whether at an old restaurant or a coffee corner, and cherish the beginning of your relationship while taking it ahead now. It might seem an old-school thing, but it will become a private and memorable moment.
6. Website proposal
Do you want a unique and out-of-the-box proposal? If so, you can make a personal website page with your partner's name and upload a picture of the engagement ring. To make it more special, you can add your photos and particular messages on occasion from your family and friends. Then, you can sit with your partner and type the web address while the question pops up.
7. A picnic proposal
A picnic might seem odd, but it can easily make a beautiful and romantic movement. You can take picnic essentials like a mat, candles, wine, sandwiches, with some chocolates and snacks. It can be just the two of you or some close family or friends. You can even take your photo album and cherish the moments spent together and keep forward the question in a calm and peaceful setting. You can make it more dreamy by going for a picnic around the hills or countryside.
8. Cute proposal
If you and your partner are fond of cute and furry animals or pets, they can play the intermediary. You use a writing board and write the question asking your pet dog to wear it and go to your partner or make them take the ring to them. It will be a cute and unforgettable proposal moment because your dogs or cats will get to play a role in it.
9. Hike proposal
Are you an adventurous couple who likes to take outdoor adventure trips together? If yes, you can go for a perfect and romantic hiking proposal for a private and beautiful moment with mesmerizing scenery in the background. You can take a hike around the mountains, lakes, or a tropical forest for an incredible experience.
10. A family dinner
Do you want to include your family in your proposal? If so, the best way is to organize an intimate family dinner with the attendance of close family members and friends. Amid some fun conversations, you can go down on your knees and propose to your partner. It will be a memorable proposal with the presence of family, good food on the table, and an opportunity to raise a toast together.
11. Christmas proposal
If you want something romantic and traditional, a Christmas proposal can be the way. During winter, Christmas is a festival time with lit-up skies and everyone in a cheerful, happy, and celebratory mood. You can present the ring as a Christmas present by going down on your knees in front of the Christmas tree.
12. Northern lights proposal
Do you want a unique and rare proposal idea? If so, a plan to propose under the northern lights can be your take. The northern lights create a magical phenomenon under the awe-inspiring lights. Those lights in the sky with chilly winters in the Nordic countries will be a spectacular setting that won't ever let you get over the experience. Additionally, it will give you the perfect engagement proposal photos.
13. A romantic proposal trip
Traveling is a memorable, relaxing, refreshing, and a romantic experience for a couple. You take your partner to a hill station, countryside, or any other of their dream vacation destinations that they want to visit. You can enjoy and travel in the initial days. Then you can plan for a special proposal day or night at a private place or any romantic location there. It will be the perfect dreamy proposal in a picturesque landscape to capture the ideal proposal photographs. At the same time, the place will become more unique to you and your partner for life.
Wrapping Up
These are some of our best romantic engagement proposal ideas that include unique, offbeat, traditional, rare, and old-school ideas to choose from. An engagement proposal is one of the most memorable moments in life. These romantic ideas will make you unique and unforgettable for life. For more such proposal ideas and dating tips, visit perfect10dating.com and get interesting information.