Your Complete Guide To Gay Online Dating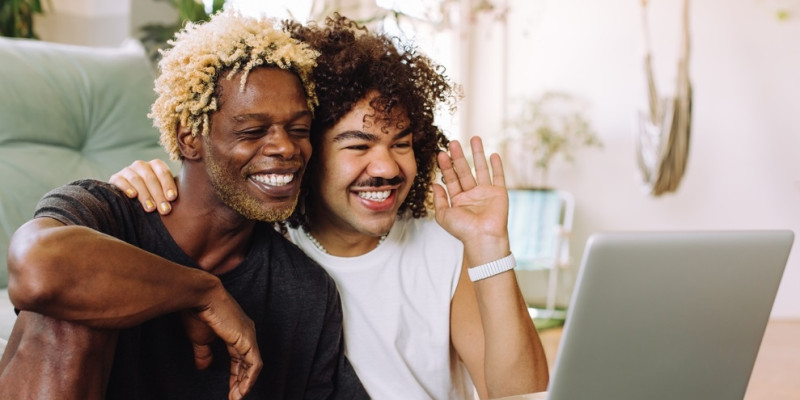 Technology has been at the forefront of gay dating and the LGBTQ community. Whether through apps or online forums, technology has changed how we date and socialize. Online dating sites and networks have been around for more than two decades. The first site to offer this service was Gaydar in 1997, and it is still going strong today with over 3 million users. By constantly evolving and adapting to social and technological advancements, they've become adept at catering to a specific niche: Gay men seeking other gay men.
The benefits of these online dating tools are that they allow people to connect, even from opposite corners of the world. Dating apps have helped expand our dating pool to include many different types of people who were not easily accessible to us before. Which is all the more reason why more and more gay men are inclined to try online dating. But where do you start? With so many different websites, apps, and services, it can be tricky to know where to look. Not to worry – we've got you covered. This guide will share gay online dating tips to help you create the perfect profile, find your soulmate, and avoid creeps and scams. Let's get started!
Benefits of gay online dating
Gay online dating is an easy way to find a loving partner these days. People can create their profiles online and look for suitable matches among the same-sex population. There are many benefits to participating in gay online dating:
1. Easy access
You can get started with as little as a mobile device and internet connection. Online dating services help you overcome geographical separation, a prevalent barrier to dating in the gay community. These sites offer more variety for selecting a partner and are especially great for introverted individuals.
2. Sneak preview
One of the most notable advantages of dating online is the possibility of getting a sneak peek of people's profiles to help you decide whether to approach them or not. Dating services also let you chat with potential partners to better know them before connecting with them. It's an excellent way to get a feel of their vibes, persona, and interests.
3. Matchmaking algorithms
Gay online dating websites offer a higher probability of finding your match than traditional methods. You can set filters and customize the search algorithm to help you match with people you're interested in and people who'd be interested in you.
4. Cultural exposure
For closeted individuals and ones lacking knowledge about the LGBTQ+ culture, gay online dating is a good way to explore the LGBTQ+ community and learn more about it. These sites also have blog pages and resources to help you learn about gay dating and the whole community in general.
5. Privacy
Suppose, for some reason, you do not wish to be seen as part of the LGBTQ+ community in public. In that case, the privacy settings and features offered on gay dating sites can help you separate your private activities from your everyday public life.
6. Cost-effectiveness
Online dating is not only more convenient than traditional dating; it is also a cheaper and more effective way to find people without having to go out to gay bars or clubs. You can find your perfect date from the comfort of your couch!
How to create the perfect profile
It can be tough to find your soulmate, but with the right tools, it's definitely doable. When looking for a love interest, it's essential to be specific about what you're looking for. Dream big and think outside the box! When it comes to online dating, your profile is key. It's the first thing people will see, and it's what will make them decide whether or not to get to know you better. So how do you make sure your profile is perfect? Here are a few tips:
1. Make sure your profile is well-written, honest, and accurate. It'll help you attract the right people and weed out the creeps.
2. Add photos of yourself. The internet is filled with tutorials on clicking selfies and photographing yourself. Share different kinds of pictures on your profile, and add photos of you enjoying your hobbies. Who knows which photo might catch someone's eye!
3. Be open about who you are and what you're looking for. Letting people know these things will save you a lot of time and weed out most non-compatible suitors.
4. Share your hobbies and interests. A meaningful and effective way to communicate and bond with someone is to do it over a shared interest. Make sure to have some conversation ideas ready to go when the chance presents itself!
How to avoid creeps and scams
When talking about gay online dating, we can't emphasize enough the need to avoid creeps and scams. You want to find someone you can intimately connect with, but you don't want to end up with a creepy guy who's just out for a quick hookup. It can be tough to tell who's legit and who's not, but there are a few things you can do to stay safe.
First of all, be careful about giving out personal information. Don't share your address or phone number until you truly trust the person you're talking to. Be suspicious of users who ask for money or gifts. If someone starts asking for favors before you've even met them in person, they're probably not worth your time.
Online dating can be tricky, and the gay online dating niche comes with its own problematic phenomena with pranks, frauds, and women pretending to be men on these websites. This can lead to confusion and frustration for those looking for love and intimate connection instead of trouble or just platonic friendships. Always use common sense. If something feels off, it probably is. Trust your gut instinct, and don't hesitate to walk away from a situation that doesn't feel right. One way to solve these issues in the long term is to always report such profiles to the website authorities.
Conclusion
Whether you're new to the world of online dating or have been using dating apps for years, it can be tough to know how to make the most of your experience. That's where we come in – we've collected all the best advice and tips for finding love online, so you can relax and let us do the hard work for you. From creating the perfect profile to avoiding creeps and scams, we've got you covered. So why wait? Visit perfect10dating.com now!